- THE MOST POWERFUL A/V PRODUCTION MIXER IN THE MARKET -
FIRST LOW COST
ALL IN ONE MULTIMEDIA SYSTEM
Mixer, Play out, Graphics,
Streaming and more.
Audio and Video management with no limits
Manage you RSS
in the most simple way.
On Air Mix is a multi-application software for managing TV STATIONS, VISUAL RADIOS, SOCIAL EVENTS, COPORATIVE VIDEO PRODUCTIONS, etc. Designed as an ALL IN ONE system, integrates a Broadcast A/V Mixer with Graphics, Streaming, Playout Server, Baseband Ingest, File Based Ingest, Audio Mixer and more.  Can be installed in one single PC or deployed in different network connected multiplatform terminals.
New technologies allow us to give response to a big number of demands the huge community of users has been making.
In these days, each user requires to have his events up in the cloud. For example, a Radio Station can´t be conceived anymore as an audio-only broadcaster, they must add video to their productions too, TV Stations want to have presence on the web to increase their amount of viewers, social events are broadcasted through the internet so they can be assisted by people who can´t be present on site, and we could continue with more examples. All of them share the necessity of reaching the best quality with the lowest possible cost.
Next generation´s technology offered by ON AIR MIX, will give you all the tools you need to manage audio, video, graphics and streaming requirements with the lowest cost and the highest professionalism.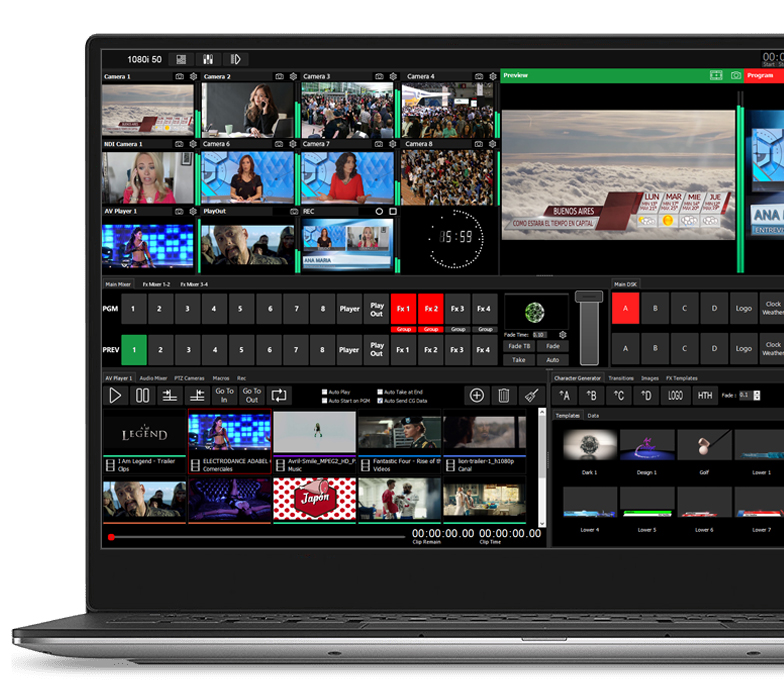 ON AIR MIX next generation´s architecture allows you to set it up according to each user demands, optimizing resources to reach the best results with the lowest cost in the whole market.
Games, Corporative,
Education, Sports
Intel I7-8700K processor or higher.
Motherboard type ASUS ROG MAXIMUS  X or higher.
16 Gbytes of DDR4 RAM in DUAL CHANNEL (Required

).

VGA Video Card Type GFORGE GTX 1050 or higher.
SSD disk for system of 120 Gbytes or higher.
Hard Disk for Data.
Windows 10 Professional 64 bit.
GAMER line with  I7 Processor.
Windows® 10 Professional 64 bit.
16 Gbytes of DDR4 RAM in DUAL CHANNEL (Required

).

VGA Video Card Type GFORGE GTX 1050 or higher.
SDI PTZ VIZCA PROTOCOL (MARSHALL CV620 / CV620-IP) 
SDI/RTSP – PTZ ONVIF PROTOCOL (PUS-HD520 / AMC A2001N / LTC-A2001NV2 / AMC-E200NV2 / E210NV2 / E220NV2) 
RTSP – PTZ ONVIF PROTOCOL (Type DAHUA A35) 
CAMERAS NDI® 
USB WEBCAM  (Type HD PRO WEBCAM C920) 
BLACK MAGIC® (DeckLink Duo 2/DeckLink Quad 2) and more.
RECOMMENDED INPUT DEVICES